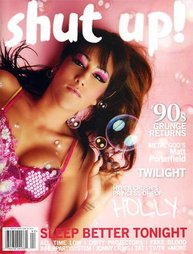 HISTORY
SHUT UP! was founded in 2001 by
Sahar Vahidi
as an email newsletter on AOL. By 2003, the printed glossy magazine was distributed nationwide in the United States until 2010. The magazine was produced entirely independent of mainstream media and corporate sponsorships.
AGENDA
The editorial staff focused on spotlighting anyone in music and fashion that was up-and-coming and stardom bound. The staff's curated selection of talent have gone on to selling out concert venues, booking national campaigns with publicly-traded brands, becoming NY Times best-selling authors and so on. SHUT UP! is now considered a futurist product. While SHUT UP! has ceased printing, the title left behind a legacy of tastemakers and innovators, well before influencer marketing became a coined term.
---
---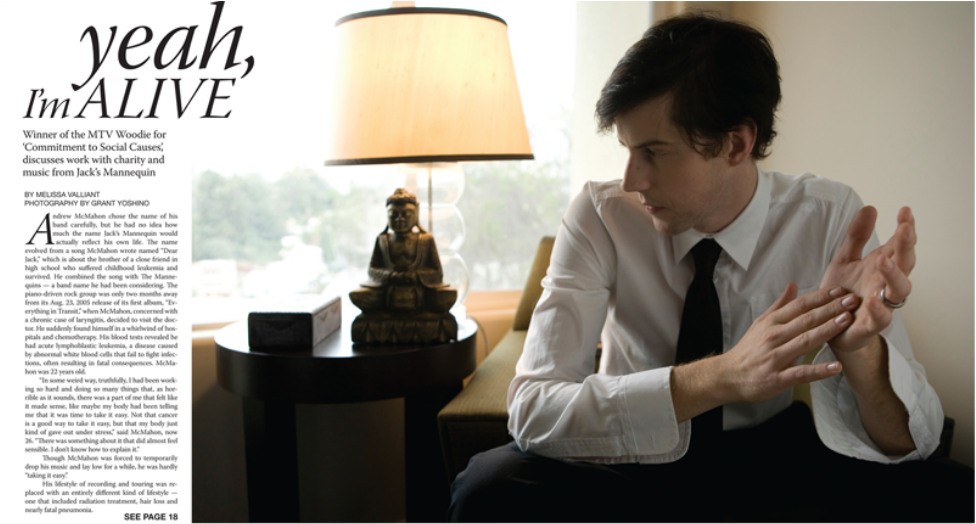 The piano-driven rock group was only two months away from its Aug. 23, 2005 release of its first album, "Everything in Transit," when

Andrew McMahon

, concerned with a chronic case of laryngitis, decided to visit the doctor. He suddenly found himself in a whirlwind of hospitals and chemotherapy. His blood tests revealed he had acute lymphoblastic leukemia, a disease caused by abnormal white blood cells that fail to fight infections, often resulting in fatal consequences.

McMahon

was 22 years old.

---
FORBES 2015:
"Andrew McMahon: A Musical Prodigy, Cancer Survivor, and Millennial Saver."
---
---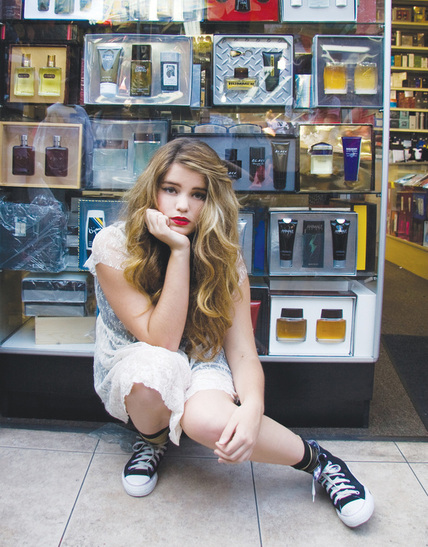 I
t's hard enough when kids in high school call you weird based on what you wear and who you hang out with. Add a blooming, yet eccentric, music career, and you're going to need to grow a tough skin for high school drama. "They don't really know about [my music career] yet," says 16-year-old singer-songwriter
Sky Ferreira
. "They still treat me like I'm weird. Some people treat me differently now that they now about it; all of a sudden they're nice to me." Instead of dismissing the comments as jealously, Ferreira owns up to her potential weirdness. "I'm a little different, a little awkward maybe…"
F
erreira has only been officially making music for two years, but those years have been enough to have acquired some lessons learned. Lesson number one—one's image can make or break your career. If you're as young as Ferreira, though, finding a balance in image can be particularly important. "I'm willing to be controversial," Ferreira confesses, "but I don't want to sell out. I'm not trying to sell my body or anything, but I'm not trying to have a perfect, clean image. If I do anything it's because I want to do it."
T
he Los Angeles bombshell does, in fact, have a balance for her image. Her MySpace pictures appear high fashion, with wild hair and clashing colors and styles—a tribute to her rebellion against status quo. A few, though, more than suggest a maturity beyond her years, with plenty of cleavage and thigh for all her fans to gawk at. And it's not like she's a bad-looking gal either. The mature image, though, seems to match her voice well. In ballads such as "God Bless," the soulful power of Ferreira's voice seems mismatched for a person who still has the junior prom to look forward to. The women-in-a-girl's-body persona also exudes itself when she speaks, more often than not, way beyond her years. "The thing is I'm not doing [music] for money," says Ferreira. "I should, considering this is what I'm doing for my career, but honestly, I'm doing it because I enjoy it." And she certainly has been enjoying the writing and recording process in preparation for her debut album. After receiving offer after offer, and rejecting them all, Ferreira has shacked up with her musical dream team. "I'm working with Blood Shy [and] Avant [producers]," she gushes. "They do a lot of electronic and pop stuff. I also worked with my friend Sam. He did the music for 'Almost.' And I also worked with Mapei. She has a Lauren Hill thing going on."
A
lthough she might be Miley Cyrus' age, Ferreira's sound doesn't cater to pop-obsessed tweens. Joan Jett, Outkast, Prince and Blondie's influence on Ferreira cannot really be heard through her music, but their outlandish, boundary-breaking characters have certainly rubbed off on her. "[My album is] going to be very different and revolutionary. It's not going to be typical; it's going to be urban sounding." Her MySpace page describes her music as "French Pop/Dutch Pop/Chinese Pop," but that doesn't quite discover the sound that comes out of your speakers. Her first single "Almost" transports listeners to a land full of electronics and reverb, coupled with Ferreira's heavy, low voice, delivering lyrics of regret. "I wrote 'Almost' when I was 14, and for some reason it got a lot of publicity; I don't really know why. This kid and I were going to do music together, and then he liked me. Then, he completely changed stuff around and basically he stopped talking to me. I dated him for a while and he basically disappeared and then dated my best friend. So, I wrote that song. It's kind of funny how it worked out," she explains, in true teenage fashion.
R
egardless of the heavy sound, people can relate to songs like "Almost." "[The songs are] pretty much based on experience in general. It's mostly stuff every kind of person can relate to, even if you're 14 or if you're 19." The content of other songs, however, may say otherwise. "If I want to say the word 'fuck' in my song, I'm going to say 'fuck.' I'm not going to edit it so it's for a certain age group."
W
ith an album on the way, Ferreira has big plans for the fall. "I'm supposed to go to Sweden, London and Paris for Fashion Week," she explains. Luckily, the small amount of stardom hasn't gone to her head. "It's taking a lot longer than I expected," Ferreira confesses. "Actually, some parts go so fast that it's overwhelming and some just seem like they're taking forever. I wasn't expecting…to get attention, but I also wasn't expecting to get approached by really good producers. I got a lot more response than I expected. I feel like I've waited a long time, but I haven't really waited long at all."
---
---
| | |
| --- | --- |
| PRESS COVERAGE | "AMERICA'S NEXT TOP MODEL" |